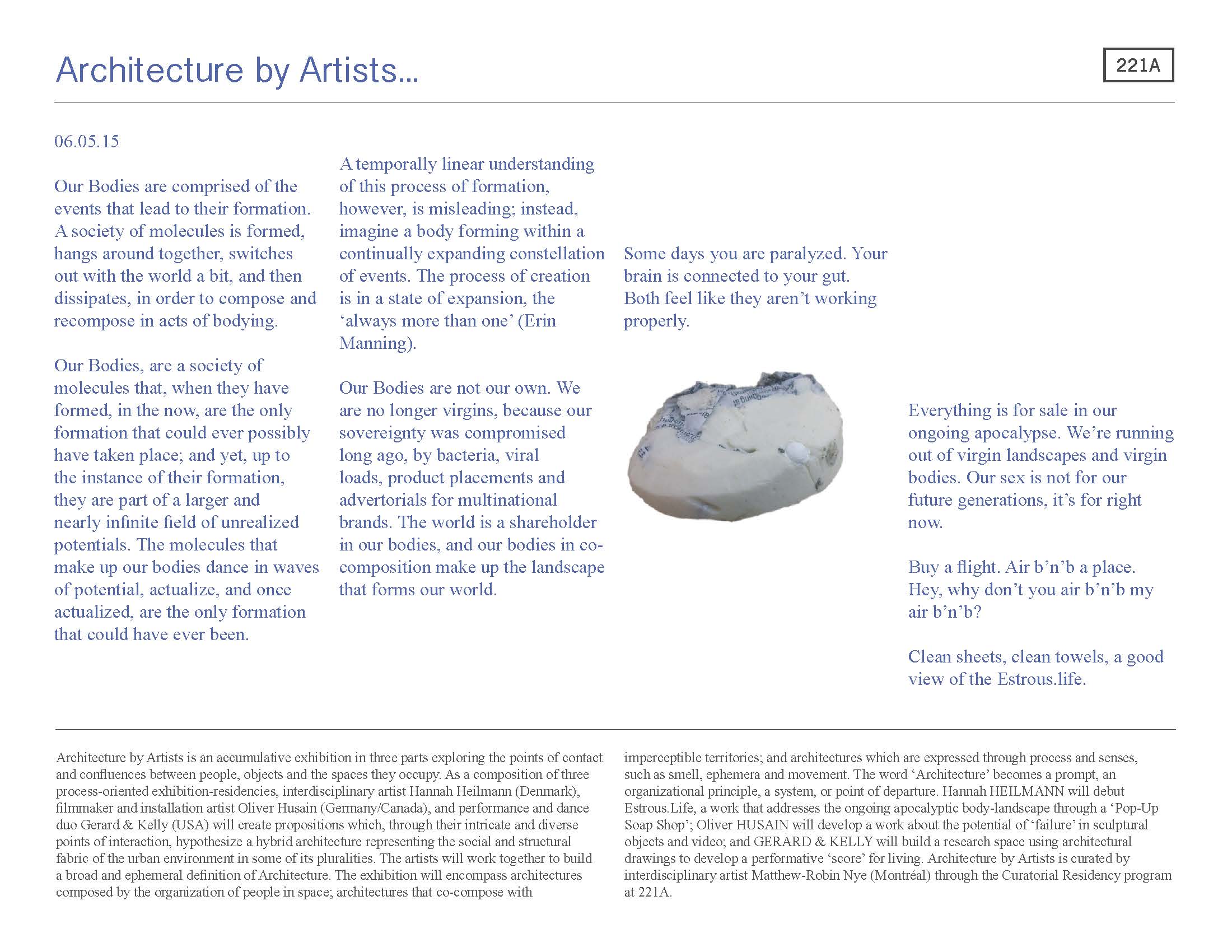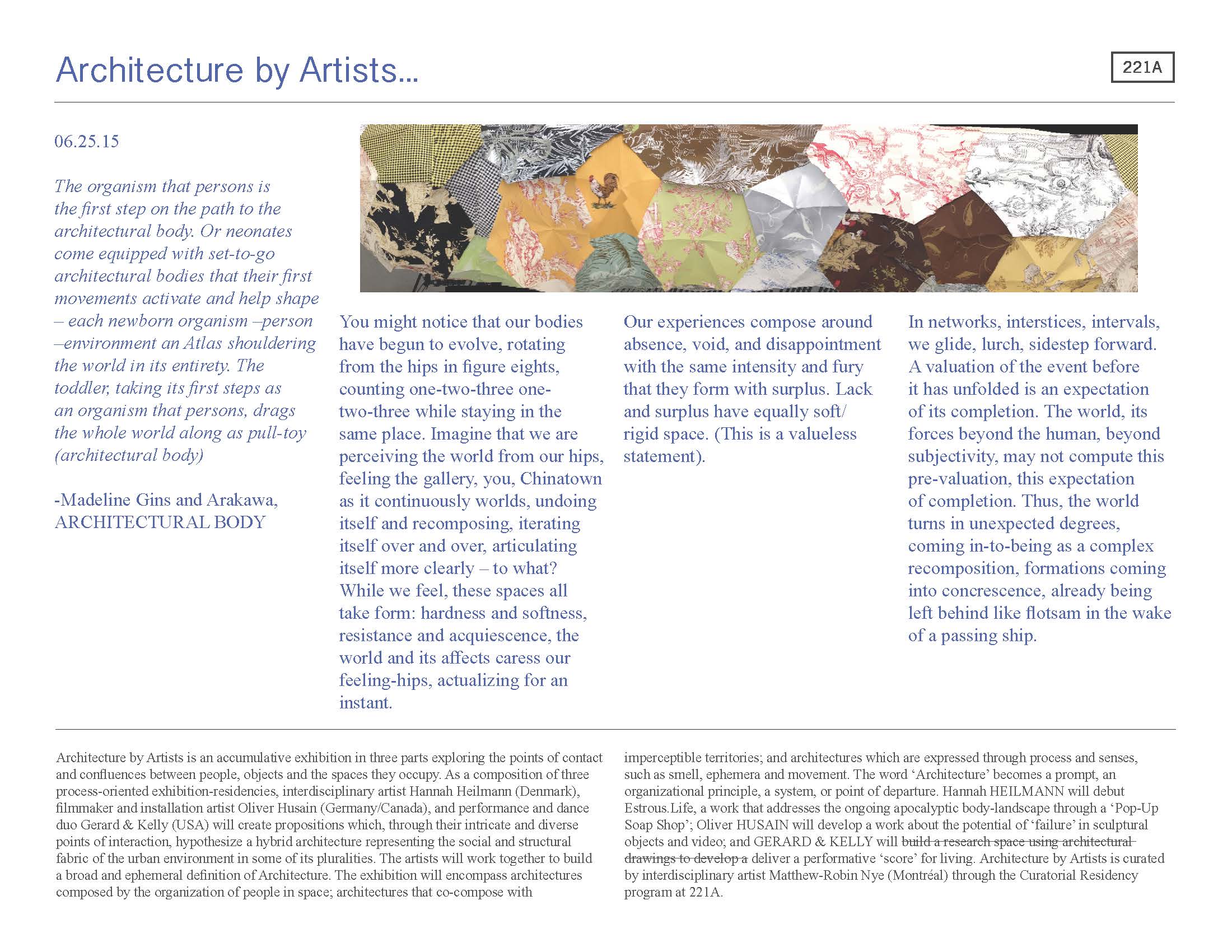 Oliver Husain / Hannah Heilmann Estrous.Life / Architecture by Artists
Architecture by Artists is an accumulative exhibition in three parts exploring the points of contact and confluences between people, objects and the spaces they occupy. Interdisciplinary artist Hannah Heilmann (Denmark), filmmaker and installation artist Oliver Husain (Germany/Canada), and performance and dance duo Gerard & Kelly (USA) will create propositions which, through their intricate and diverse points of interaction, hypothesize a hybrid architecture representing the social and structural fabric of the urban environment in some of its pluralities.
The works, in concert, present a broad and ephemeral definition of Architecture. The exhibition will encompass architectures composed by the organization of people in space; architectures that co-compose with imperceptible territories; and architectures which are expressed through process and senses, such as smell, ephemera and movement. The word 'Architecture' becomes a prompt, an organizational principle, a system, or point of departure.
Heilmann will debut Estrous.Life, a work that addresses the ongoing apocalyptic body-landscape through a 'Pop-Up Soap Shop'; Husain will develop Mondo Pale Grey, a new site-specific video and performance about the potential of 'failure' in sculptural objects and video; and Gerard & Kelly will present performative 'score' for living.
Architecture by Artists is curated by interdisciplinary artist Matthew-Robin Nye (Montréal) through the Curatorial Residency program at 221A.
Image courtesy of 221A/Dennis Ha
Hannah Heilmann Estrous.Life / Architecture by Artists
Image courtesy of 221A/Dennis Ha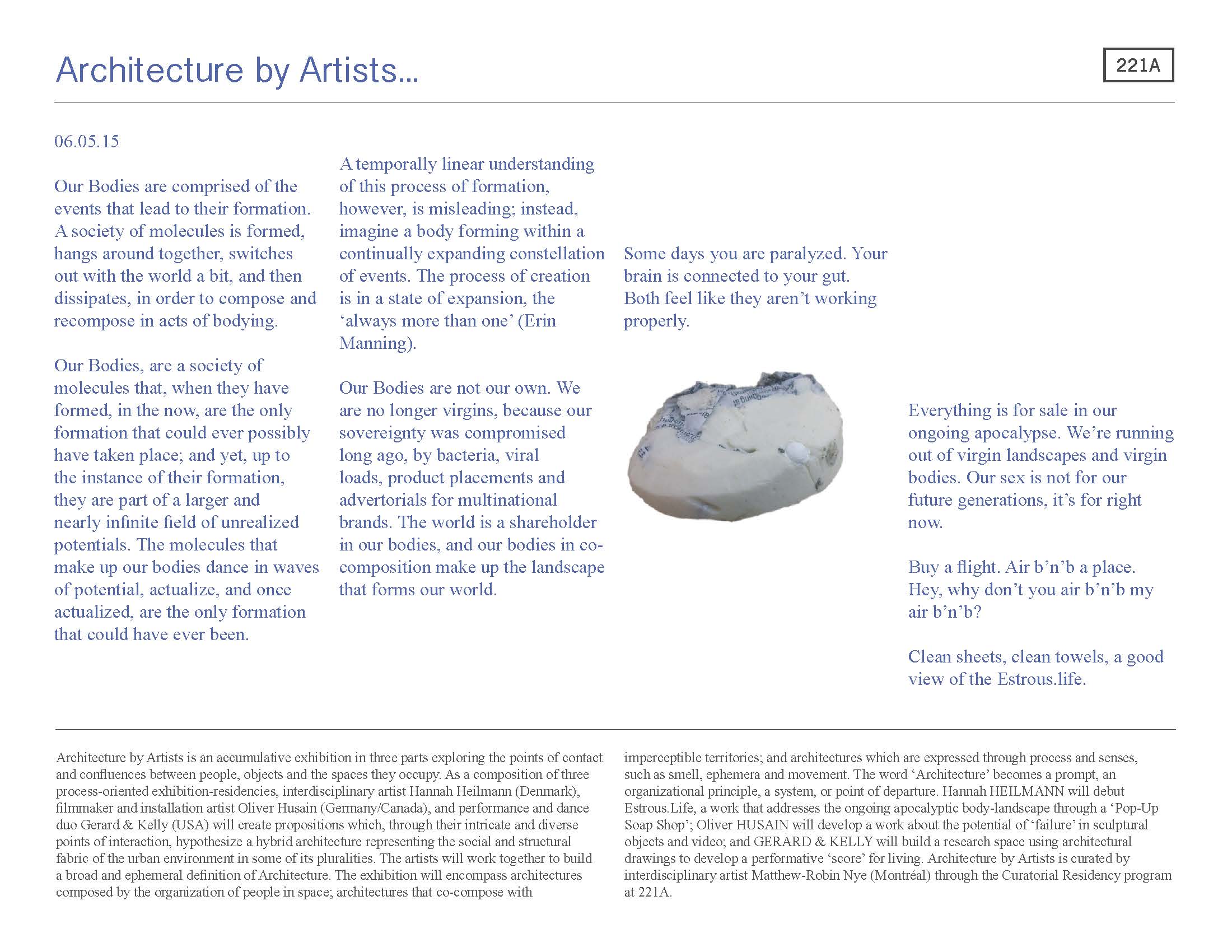 Hannah Heilmann Estrous.Life / Architecture by Artists
Image courtesy of 221A/Dennis Ha
Hannah Heilmann Estrous.Life / Architecture by Artists
Image courtesy of 221A/Dennis Ha
Hannah Heilmann Estrous.Life / Architecture by Artists
Image courtesy of 221A/Dennis Ha
Hannah Heilmann Estrous.Life / Architecture by Artists
Image courtesy of 221A/Dennis Ha
Hannah Heilmann Estrous.Life / Architecture by Artists
Image courtesy of 221A/Dennis Ha
Hannah Heilmann Estrous.Life / Architecture by Artists
Image courtesy of 221A/Dennis Ha
Hannah Heilmann Estrous.Life / Architecture by Artists
Image courtesy of 221A/Dennis Ha
Hannah Heilmann Estrous.Life / Architecture by Artists
Image courtesy of 221A/Dennis Ha
Hannah Heilmann Estrous.Life / Architecture by Artists
Image courtesy of 221A/Dennis Ha
Hannah Heilmann Estrous.Life / Architecture by Artists
Image courtesy of 221A/Dennis Ha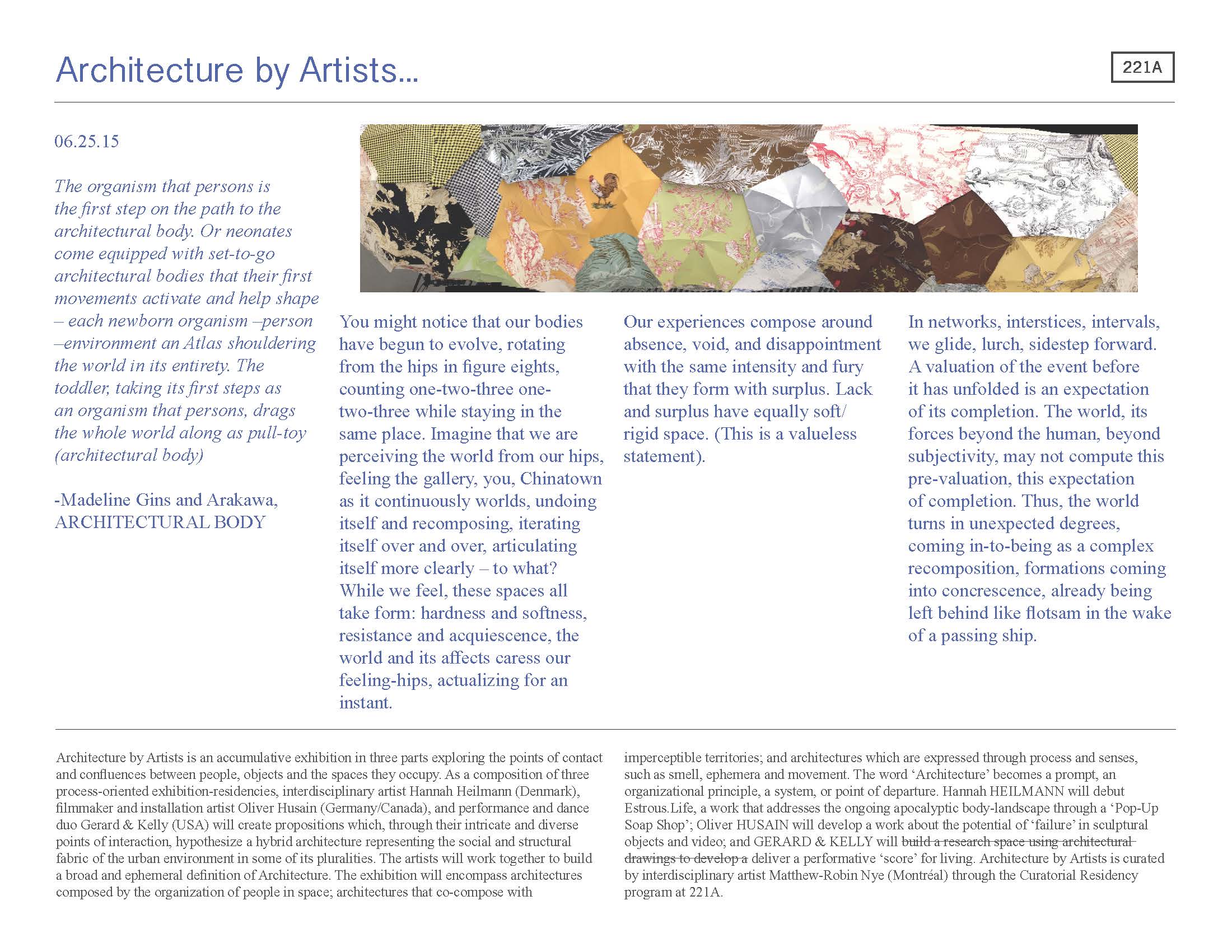 Oliver Husain / Architecture by Artists
Image courtesy of 221A/Dennis Ha
Oliver Husain / Architecture by Artists
Image courtesy of 221A/Dennis Ha
Oliver Husain / Architecture by Artists
Image courtesy of 221A/Dennis Ha
Oliver Husain, Nouveau Peony / Architecture by Artists
Gerard & Kelly / Architecture by Artists
Image courtesy of 221A/Dennis Ha
Gerard & Kelly / Architecture by Artists
Image courtesy of 221A/Dennis Ha